March 22nd to 30th, 2002
It's hard to believe, but a bottle of wine several years ago directed us to our next getaway – an escape from the States for Paul's 60th birthday! (We had one bottle of Collioure red – 10 years old – that had escaped notice in the wine cellar. Tried it, thinking that it would be past its prime, but it was delicious! After finding the area on the map, the internet wizard and birthday guy found us a place to stay and we were off to yet another adventure!)
We left Dulles Airport on Friday, March 22 at 6:30 PM – a pleasant flight on United with 2 very friendly flight attendants – one British, one American – who presented us with a gift of wine (?stolen from first class?) just before we landed at Heathrow ~ 6:30 AM (London time). After a bus ride to the other terminal and a scary delay before realizing we were in the wrong place for flight connections – we boarded our British Air flight to Barcelona at ~ 8:30 – gained another hour, and arrived in Spain at ~ 11:30…. After a long line, customs was a breeze – then another line for the rental car and we were on our way – crazy intersecting highways and heavy traffic – with everyone driving like bats out of hell – and Paul joined right in to the horror of yours truly as we zoomed north through the mountain foothills with high wind warnings! Needless to say, the trip resulted in some verbal warfare – but we arrived safely in Collioure and all was forgiven.

What a wonderful place for our long-awaited getaway! Collioure is quaint, charming, and welcoming. Our hotel – Le Bon Port – is not luxurious, but clean, friendly, reasonably-priced and more than adequate for our needs. The best feature is the beautiful view from our room, with French doors we can open to hear the Mediterranean crashing against the rocks to put us to sleep (after the cars and motorcycles are gone!)…
After checking in, we walked into town for a late lunch along the water at the

"Copacabana". Paul had Salade au Capitaine (with shrimp, mussels, and other small sea critters) and I had "Salade Copacabana" (with greens, rice, tuna, corn, olives, avocado, tomato, cucumbers, etc.) – with wonderful French bread and local wine, of course! After the meal, we sampled the Banyuls cognac – love at first taste!
Almost everyone in this town (locals and a few vacationers) is French – but they have been extremely patient with my attempts to speak their language. It gets easier with each exchange, and I hope to improve both competence and confidence by the end of the week (which, unfortunately, will be in Spain, where we both will have to resort to sign language! :=)
After a pleasant stroll through part of this pastel picture postcard, we returned to home base – Paul for a nap, and Pat to unpack… Then after a much-needed bath/shower (Euro style –

sitting in the tub!) we headed out for dinner at a restaurant recommended by our lunch waiter – just 50 meters from our hotel, located in a spectacular hotel called "Relais de Trois Mas" The restaurant is

called "La Balette" – beautiful, with a killer view of the water and town. Both hotel and restaurant have earned **** and we soon found out why! The dishes, service and food were first class! (My only complaint was the pot of huge plastic sunflowers in the corner – hopefully to be replaced with the real thing "in season"!) After a Banyuls appertif and accompanying "snacks" (appeared to be small, crispy fried anchovies – a local specialty – and little rounds of Serrano ham), we both decided to make this our anniversary dinner (one night early), and splurge on two of the 5-course fixed price meals – even though I had not brought along my "European Menu Reader" and we weren't sure what we ordered! (Our waiter was adorable, but didn't speak any English).
The first "course" was "Amuses bouche" – served in a small glass – creamy carrot puree (I think!) covering a tiny egg and topped with crème fraiche and dill. Paul's second course was a small terrine of grilled foie, eggplant, and Serrano ham in a Muscat reduction and I had "cannelloni" of caviar, eggplant and sweet peppers and crispy small fries…. Paul's main course was scallops St. Jacques en brochette with chorizo iberico (local sausages) and wonderful risotto with Mascarpone, herbs, etc. I had (from "Le Menu Regional") fresh cod, topped with not-salty anchovies, over a sweet garlic sauce with wonderful little crispy garlic potatoes. By this time we were stuffed – but had a few selections from the obligatory cheese plate (no local Roquefort, but the goat cheeses were unbelievable!). We protested that we were too full for our pre-ordered dessert course – apple confit – but got it anyway – followed by coffee and more little sweets, including a crispy thin praline lace cookie and a creamy lemon delight that exploded your happy senses! What a memorable meal!! We waddled back to the hotel and collapsed into bed, but sleep was restless secondary to too much food and drink!
(3-24) Paul awoke early – took a run into town, but found nothing open for coffee

– So we waited until our hotel buffet breakfast was served at 8:15 and had the usual French fare – cereal, yogurt, fruit, OJ, toast, breads and coffee – It hit the spot. Since it's Sunday and many places aren't open, we decided to take a drive to scope out the neighboring towns. We first headed south from Collioure – beautiful scenery by the sea – then through the hills and terraced vineyards to our southern neighbor Port Vendres – a lively fishing town – larger than Collioure and worth another look. We then headed north to explore our northern neighbor – Argeles sur Mer – an Ocean City resort "wannabe" – but not our taste in European getaway spots. It boasts the last wide sandy beach before Spain, but definitely caters to the summer-only vacation crowd.

We next headed north to Perpignon – the capital city of the region. After ~ 30 minutes wandering through traffic, confusing

signs, and nothing tempting, we decided we were happier near the water and found our way back to the road returning us to the south and the coast. Our last exploration for the day was in Banyuls sur Mer – another great coastal town south of Port Vendres where we enjoyed coffee and beautiful views – including palm trees (!), which survive because of the very protected harbor.
We then went back to Collioure for a wonderful late lunch at "Le Tremail". We both started with moules (mussels) – Paul's marienere and mine in a wonderful cream sauce with garlic and parsley. Paul had sole served over a delicious light lemon sauce and I had a grilled local fish (?name?) – both with crispy potatoes and vegetables and fantastic bread. We ended the meal sharing a crème

Catalan – spectacular! We were stuffed again, but returned to the Copacabana for cappuccino and that totally addicting Banyuls cognac while people-watching the locals on the beach – including a surprising altercation started by a dog! Most French dogs (seen and welcome everywhere) are extremely well-behaved. In this instance, a large dog made an aggressive move on a smaller one – then the aggressive dog's owner appeared, and apparently made an unkind remark to the older woman sitting with a younger couple, a toddler and the small dog. Next thing – "mama" insisted that her son defend her honor, and despite his wife's attempts to stop him, he sprinted across the beach and jumped on the back of the aggressive dog's owner! (It was video material, but we didn't have the camera!)…. Then the latter's wife jumped on the two (leaving the big dog to run free) while people rushed in to grab their children. The humiliated couple (and large dog, now on a leash) then left the beach – wife in tears – after a few more words with the other family. "Mama" was smiling and laughing after their departure…..

We took the longer route back to the hotel – stopping by a park where we heard live music – just in time for a local Catalon tradition – Sardane

dances. Since we didn't have the video camera, we race-walked back to the hotel, then returned to the park for this amazing display of folk dance. To the music of a small band (no percussion – just a bass violin, brass, a special type of flute and another unusual instrument where a bow is pulled over a woodblock), the large crowd of locals spontaneously and

gradually started dancing smoothly in steadily larger circles until the entire park was filled with a dozen circles of dancers moving comfortably in unison – Amazing! It brought tears to your eyes to see these gentle people, ranging in age from 8 to 80, enjoying a tradition that dates back to their Spanish roots… though they are proudly French. (Click to hear their music)
After another delightful walk through more small streets in town (more shops and
restaurants to sample!) – with charming houses and beautiful flowers – we headed back toward the hotel, but got side-tracked by a Banyuls wine-tasting establishment – surprisingly open on Palm Sunday. Soooo we had to detour and sampled two wonderful selections and bought 2 bottles of 6-year-old wine for less than $12.00. We felt like thieves. (The proprietress spoke no English, but we got along fine! :=) )
Now it's almost 8:30 PM – Time to wake Paul from his nap so we can head out for a very light supper – maybe crepes, salad or pizza – so we can still button our pants! More tomorrow… Paul's 60th Birthday!
(3-25) First – need to catch up on last night. It was quite chilly, so we bundled up and walked into town. Most of the open restaurants were full – but we found a nice small place on a back street that was warm and friendly – "Le Tambourin", where Paul enjoyed his moules et frites and I had another huge, wonderful salad, with lots of bread and wine, of course!… Then back to the hotel and very welcome sleep……
Woke today to a very chilly morning, had the hotel light breakfast (same as yesterday), then headed south by car to explore the coast from Port Vendres into Spain. (Thought we could find an Internet Café in Port Vendres, since none exists in Collioure or Banyuls – but no luck – will have to go north tomorrow…)
The ride along the coast, with hairpin turns zig-zagging around the mountains that plonge into the sea was scary – but just spectacular! We stopped for a coffee in Corbiere – the last French coastal town before Spain – then continued past or through other Spanish coastal towns – around hair-raising mountain turns and through interesting scenery, including mountainsides terra

ced with mortarless stone walls that must date back hundreds of years – to Cadaques (a side-trip recommended by Rick Steves), where Salvador Dali and other famous painters (incl. Picasso) spent time. It was a pleasant beach town, but ?? worth the ride??… We had a wonderful lunch at El Pescador. Paul chose a delicious and unusual (slightly creamy) gazpacho and moules (of course!) in a wonderful sauce (fish, tomato & herbs), and I had salad Catalan and fantastic grilled Dorado – with Rioja wine….
Then the adventure continued – around lots more curvy mountain roads to Figueres, Spain, to tour the Dali Museum – VERY impressive place – but just not our preferred type of art. (I told Paul that he needed to have some "culture" on his birthday – since he usually avoids most museums whenever possible – so time will tell whether we'll get to the Picasso museum in Barcelona on Friday – but time to see that city in just one day will be at a premium!)
We returned to Collioure via the inland "interstate" highway – less scary than the first time because of less traffic and wind… It's now 6:15 and the day is fading while Paul has his nap…. So soon we'll bundle up again and stroll into town for what will surely be yet another wonderful meal! More tomorrow…..
(3-26) Can't believe that it's Tuesday already!! Last night we again walked into town after exploring the seawall around the huge Neptune restaurant. Headed toward a small place on the
back streets of the old town where we'd been turned away twice in the past because they were "complete" (full) – and this time a table was available – Voila! Restaurant "Le Puits" was perfect – local, friendly, very inexpensive, and had terrific food! We both had Soupe de Poissons (fish soup) with Rouille, croutons, and grated cheese – perfect on a chilly night and absolutely delicious. Paul then had Moules et Frites (of course!) with Sauce Banyuls – and I had "Cousteillous" (pork ribs) with Sauce Ganyuls – and round potato fries – all delicious. We again shared crème Catalan (the light, local version of crème brulee) and more wonderful local wine – Yum!
Sleep came easily for yours truly (Paul continues to be restless) – but today dawned clear and, thankfully, warmer. After the usual French breakfast, we headed out for the next adventure….
First we traveled north (again) to Argeles-sur-Mer, where we were told we'd find

(finally!) an Internet café…. Eventually we got directions to the right spot, and sent that pro

mised email to family. Then we strolled the beach area (getting ready for the early season Easter vacationers) – a wide, sandy beach (the last in France before Spain) 4 km long, with lovely grassy areas, pine and palm trees, a beautiful beach promenade, and a view of the Pyrenees in the distance. We now can understand why this is such a popular resort – but smaller places like beautiful Collioure suit us much better…. However, it's amazing that internet in Collioure is only via slow modem….

Today's plan was to return to Banyuls-sur-Mer to taste the famous local offerings and, hopefully locate Clos de Paulines – the home of the bottle of wine that brought us to this place. However, we found out from the tourism office in Banyuls that Clos de Paulines is a restaurant on the outskirts of town that is only open from June to September. Their wines are only available in larger cities – so how did I get it in Maryland?…..
Anyway, we found the perfect spot for lunch on the water: Restaurant "Chez

Paul" – where I again had fish soup (not as good as last night) and paella – which was outstanding – wonderfully cooked and seasoned prawns, sausage, chicken, pork, mussels (and other sea critters), with rice, green beans and red pepper strips. Paul again had mussels, declared "the best yet!" and fried sole –surprisingly delicious.

We then headed up the road to the top of the hill to take pictures and met three delightful folks from the Basque-Gascone region, then headed

out to the Cellier des Templiers only to find it closed until 2:30!… So back to town for a coffee – only to meet up with our new friends from the hill – Henri & Jamy and their daughter Simone – so we shared stories (in my "fractured French") and laughed for an hour. Their son has been to Maryland as an exchange student – so, of course, we invited them to "come for a visit anytime!"

We finally had our wine tour – very interesting (the guide was French, but the preview film had English subtitles, which helped!) – followed by a tasting of 3 Collioure and 3 Banyuls wines – all delicious – then the wonderful Vieux Mark (a slightly sweet cognac-type wine) – bought 6 bottles!
It's hard to believe that we only have two more days in the area before heading to Spain – but we're smitten and will be back – perhaps some September soon to see the grapes heavy on the vines, clinging to steep terraced mountain slopes (which must be carefully picked by hand). Now the leaves are just starting to sprout from the heavily pruned stock….
It's not 7:30 – soon time to wake Paul from his daily nap and head out for dinner – chilly again tonight – I definitely brought the wrong clothes!! Tomorrow we'll drive to Carcassonne – a well-preserved and restored Medieval city and fortress ("the largest in Europe" per the guide books) and save Thursday to enjoy Collioure and more local sights – hopefully ending in a Tapas Bar where, according to Rick Steves, "tourists are tolerated"…..
(3-28) Last night we had dinner in another popular old town restaurant – "La Marinade", where Paul had the fish soup (2nd place, so far – but the rouille was fantastic!) and a wonderful sea bass filet with sauce marinade and delicious ratatouille. I had a great salad chevre

chaud – but chose the dorado for dinner – a disappointment. As we were finishing our shared crème Catalan (heated with a flourish by the waiter with a culinary blow torch!), we struck up a conversation with another couple that was quite a lively end to the evening! "Serge" (Sergio – part Italian, French and Spanish) and "Inger" (Swedish-American) live in the hills above Collioure. We talked, laughed, and debated in French and English about travel, children and politics. To Paul's delight, Serge is a real estate agent and VERY eager to show us property. SOOooo we plan to meet them for lunch Friday for a preview of sale and rental property. We ended up closing the place – looked over to see our lone waitress and the bartender sitting on the floor! Needless to say, we slept like logs and didn't get to breakfast until 9:30!

The drive to Carcasonne was long (~150 km) – but most on the superhighway. We started out by missing our exit – then finally wound through the very attractive "new tow

n" to the Ville Basse (older town around the base of the castle) – but directions for parking were incredibly confusing. We finally found a place by the old gate and hiked around to the main entrance. The size of the structure is awesome and the tall inner and outer walls quite imposing – easy to understand why it is the largest fortification in Europe – But unfortunately, most of the inside has been turned over to hotels, cares, and a million shops. Unlike our home base city in Tuscany – Volterra – the only folks that call Carcassone La Cite home are a small number of support staff…
The Gothic church I had hoped to see was closed for restoration, so we walked around the narrow str4eets and looked for a sunny (warm!) spot for lunch – settling on La Table Ronde – a recommendation for :"better than average cassoulet" from Rick Steves. Well – it's the first time he let us down! We started with a salad that had too many unknown ingredients for Paul to eat (I did) – then the cassoulet, which was terrible – full of grease and very fatty pieces of duck and pork sausage (Maybe a new chef?….) The house red wine was delicious, as was my fruit tart and Paul's chocolate mousse (more like pot de crème). After a little more wandering, Paul wanted a brief nap and I wanted to pick up some French soap for friend Lynne – so we agreed (I thought!) to meet at the

front gate – but when I returned ~ 10 minutes later he was nowhere to be found. After searching the benches in 2 parks, checking the ancient cemetery and several parking lots, I figured he may have just decided to go back to the car…. So I hiked around the other side of the castle only to find the car empty – then hiked back to the main entrance – STILL no Paul to be found! (> l hour)… So I waited and waited in the front – then finally spotted him walking out the main entrance! (He'd been down on the grass between the 2 walls – never heard him say that!)… Not a great way to end a disappointing adventure and a lousy meal, with a 90 min. drive ahead… but the worst was behind us. Rick Steves had let us down, but the structure was spectacular. We ended the day back at the internet café at Argeles-sur-Mer – happily receiving the news that all was fine at home – and Paul, unable to resist the temptation to check on the basketball, found out that Maryland won both of their games last weekend and will be returning to the Final Four for the second year in a row! (Unfortunately, we won't be home in time to see the game Saturday….)
The weather continues to be quite chilly – especially at night – but the scenergy continues to be both interesting (varied winegrowing between Cerbieres and Collioure) and gorgeous (mountains and sea). The driving can be rather nerve-wracking for a speed-limit gal like me – but the roads are well-marked and in excellent repair.
Along with the language barrier, perhaps one of the more unique adjustments comes in the bathroom. Public bathrooms are often unisex – or, if marked, there's a shared sink in the middle (with locking doors on the stalls, though!). Toilets have either No seat or a thin plastic one – and the toilet paper is almost as rough as in Germany – especially in public WCs – IF they have any. (Good idea to always have Kleenex!) A tub with sit-down shower (no curtain) is typical – as in our hotel. BUT – they're clean and certainly serve the purpose!!
The people we've met in this trip have been the real joy – kind, gentle, friendly, and patient!….. It's soon time to head out for yet another meal…. Will choose carefully! More tomorrow……
(3-28) Wednesday night we had hoped to try the Neptune Restaurant overlooking the port -- but it was closed for the second night in a row. :=( Since we were decently dressed, we returned to the pricey, but elegant Ballotte – another wonderful meal, but I won't try the translation again……
Today we awoke to rain – but the clouds eventually lightened, so the sun could peek through at times – but the chilly temperature persisted. We toured (on our own) the interesting

historic Chateau Royale (13th – 18th centuries) with some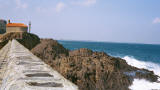 lovely views of town…. Then to the Coppacabana for a killer Irish coffee while watching the waves crash into the rocks. Warmed and rested, we stopped by the Office of Tourism, headed to the "Tabac" for a phone card – then called Serge to arrange for a meeting at 3:00 in his office. We found the Celliers du Rousillon and located some Clos de Paullines (white and red) to sample…. Then headed to lunch at nearby Casa Bona. Paul had a wonderful country pate and I had a delicious simple Salade Tomate – then Moules Catalan for Paul (thick tomato sauce with onions and green & black olives) – and I had Moules a la Crème (tons of garlic and onions in a cream sauce with parsley). We shared a plate of frites and peach melba for dessert.
Paul walked back to our hotel to drop off the wine, change shoes and take a mini-nap, while I decided to play tourist until our 3:00 appointment. I strolled the town, admired the tiny,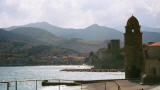 ancient, gilded Notre Dame des Anges church on the water – then walked out to the lighthouse. I needed the WC, so I went to the one by the church on the beach – only to discover NO toilets – just a tile floor with a hole, over which you squat – ugh!… At least each "stall" had a door! (Remembrances of public toilets in Turkey!) I then wandered through the narrow streets of this charming town in search of a small cookbook – but many shops were closed for "siesta", so I settled on a few postcards with recipes…(in French! )….
I then went back to the real estate office where Paul and Serge were having an animated discussion. Not surprisingly, he insisted that prices have started to rise with continued demand and no land for growth in Collioure. They claimed to have no apartments to show us (though said that many are available to rent), but had a house with a top floor view of the beach and a rooftop terrace that "just came on the market today…"
Apparently it had been owned by a fisherman who died, and "the children want to sell it quickly to avoid taxes…" The asking price was $1,300,000FF = ~ $180.000 Euros. So, curious, we agreed to meet Serge and Inger at 5:30 at the St. Elme bar – then see the house at 6:00.
We walked back up the hill to the hotel – Paul for a nap, and yours truly to begin the chore of pre-packing. Then back into town for wine with Serge and Inger and a short walk to the street behind the bar to see the house. It was quite old, with a small living room and tiny kitchen on the first floor, a bedroom and bath on both the 2nd and 3rd floors – needing serious wall-patching and paint – and a rooftop room with a picture window looking out over the beach and castle – spectacular! (The other windows looked out onto the alley/street.) Also on the rooftop level was a good-sized terrace – something that can no longer be built per the new codes. Anyway, the house had incredible potential – but the work and expense involved to rehab and furnish it were out of our league. (Inger seemed to better understand our desire for a pleasant 2-bedroom apartment/condo and promised to stay in touch via email … "after she finally gets her computer… soon"..)
It was an interesting experience!
We had our last meal in the old town at "El Capillo" – another delicious meal! After tampenade on croutons, I had a salad and grilled sea bass and Paul had the fish soup and an omelet… with more local wine, of course! We returned to the hotel in the chilly wind – for welcome sleep – then were up early (6:30) to pack and be on the road by 8:00
(3-29) Today brought us rain – often heavy – for the drive to Barcelona, but luckily the traffic wasn't heavy on the autoroute. Since we had no idea how to get to our hotel, we had a LONG drive past rather seedy high rise apartments, then through a more upscale part of town before finally reaching the Gothic "Old Town". Found our way to the "Ramblas" – but had to make 3 long circles before finally finding our hotel – just a few blocks from the cathedral – "Gran Hotel Barcino"… It was pouring (the umbrella packed in the large suitcase to be left in the car-park, of course!) – so I

stayed at the hotel with the carry-on luggage while Paul had an adventure getting to and parking in the nearby garage. By now it is 11:30, so we checked in. The hotel is very nice, but no longer is operating their restaurant…. We walked to the nearby cathedral for a quick tour – quite impressive and a welcome respite from the rain and cold. We bought a sleazy umbrella from a street vendor (an oriental speaking Spanish!) for 5 Euros, and headed down the narrow streets toward the Ramblas. We had a sandwich and coffee in a Tapas café—then walked down the Ramblas for awhile before heading back to the hotel – Paul for a much-needed nap, and me to update this journal and study the Barcelona guides and maps. Hopefully we can get to the Picasso museum and see a few sights in spite of the weather (Not a good night to go Tapas-hopping!. So we'll probably settle for a warm, pleasant restaurant and a nice bottle of Rioja.) Since this is Good Friday, many shops and the market are closed. I'll finish the trip journal tomorrow at the airport(s)……..
(3-30) Back to Barcelona yesterday…. The rain and chill persisted, but we slogged to the nearby Picasso museum with our trusty umbrella – stood in line ~ 30 minutes – then toured the interesting and impressive exhibit – currently undergoing serious renovations – but the old palace setting was fantastic. Picasso, like many great artists, had a fascinating change of style during his life – and rather questionable mental health at the end!….
We discovered that the small establishments do NOT accept credit cards or even Euro Traveler's 'Cheques (including the Picasso museum!), so we had to pay 6% to have the rest of our Eurocheques cashed! But now, armed with cash, we headed back to the Ramblas for a snack----However, on the way down the famous street (filled with shops, cafes, bars and beggars) we discovered our other destination – an Internet café! It had to have over 100 stations on the first floor alone, and one Euro buys 24 minutes (similar time in France cost > 7 Euros!)….So, after checking the email, sending a brief hello to family, and checking both the weather and basketball game times (Maryland plays Kansas at 8:47 PM – We might be home in time to see it!)… we then headed down to the port.
The port area has been fancied up a lot (in time for the 1992 Olympics held here)… but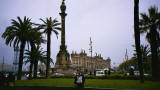 the "old port" consisted of a huge shopping complex with cafes and restaurants next door to a mammoth cinema complex and aquarium. Since my feet were soaked and frozen, we stopped for another "snack" (actually "lunch" at 6 PM!) – the Spanish version of Irish coffee to take the chill away and "tortilla & quesa", which turned out to be an excellent cheese omelet with a small salad. So, fortified, we walked back to the hotel on Via Laietana for a welcome warm shower and change.
We decided to try one of Rick Steves' recommendations for dinner – "Dolca Herminia" --- but after asking the hotel clerk to make reservations, we found out that they don't take them…"but if you get here by 9:00… no problem!" We walked to the taxi stand around the corner at 8:45 and were assured that we'd "wait only 5 minutes"… but at 8:55 we finally went back to the hotel to have the clerk call us one. He came quickly and we got to the nearby restaurant by 9:15 and got a table. Rick's description of a "modern bistro setting" was right on – a lively, attractive place in white, gray and red… but we were definitely among the few "older folks" there – strongly outnumbered by the 30-somethings. When we got the menu we couldn't believe the prices! It was cheaper than most of the lunches we had in France, and the most expensive bottle of wine was $13 Euro. We shared the house potpourri plate of small fritters, squid ("erasers" – not the Greek style), grilled asparagus, caramelized baby onions and salad (4 Euros). Paul had gazpacho (no moules on the me

nu!) and the sausage Catalan (with white beans) and I had a wonderful spinach Canneloni and the paella (delicious, but unusual – with a brown sauce) – unable to finish it all! The bill came to 42 Euros – half of it before dinner drinks and a bottle of Rioja! From 9:30 until we left – about 11:00 – couples were turned away from this packed place… with 100 names on the waiting list when we left – amazing! We had an end of day, end of trip brandy in the small hotel bar… then sleep!
This morning was devoted to packing, finding our way to the airport – No problem! We arrived 3 hours early—sitting, shopping (small keepsakes) and snacks. Hopefully the transfer will go smoothly at Heathrow and we'll get a little sleep on the long flight home!
Impressions:
1) We have fallen in love with Collioure and would love to rent (possibly buy) a place for a retirement home base… but Paul and I are NOT on the same page as to when that could be…… We have found out that there are flights to Perpignan from a small London airport (access via bus from Heathrow) which would save the long drive from Barcelona
2) The French generally seem happier than the Spanish --
Kinder and gentler, too – but perhaps my experience was biased with small resort vs big city.
3) Life is cheaper in Spain, but prettier in France (from salade to seaport
4) Paul and I have zero willpower when faced with good food and wine and a serious weight loss regimen is in order before we travel again!
5) We need to continue our efforts to learn French before the September trip with Dad, Candy and Stan…
Hopefully in Sept./October 2003 we can return to Collioure to try renting, cooking, shopping, etc. for at least a week to better gauge our comfort level for the future. Life's an adventure!! [(That 2003 goal will be pushed back a few years due to other exciting travel plans…including an African Safari!! … More news and adventures to follow!!…]